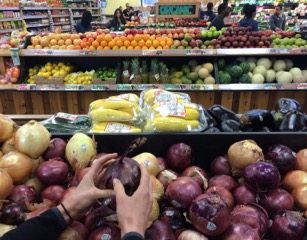 Apples, peaches and nectarines topped EWG's 2015 Shopper's Guide to Pesticides in Produce list of the dirtiest, or most pesticide-contaminated, fruits and vegetables for the fifth year in a row.  This is valuable for you to know because pesticides have been linked to a number of health problems, including cancer and lower IQ in children.  How to use these two lists? If trying to decide whether to buy conventional or organic, we encourage you to buy organic versions of the items on the Dirty Dozen list, to reduce your intake of pesticides.  The Clean 15 is a list of items you can buy as conventional with minimal risk.
Print this list and take it with you when you shop.
The Dirty Dozen:

Apples
Peaches
Nectarines
Strawberries
Grapes
Celery
Spinach
Sweet Bell Peppers
Cucumbers
Cherry Tomatoes
Imported Snap Peas
Potatoes.
Leafy greens and hot peppers are also frequently contaminated.
The Clean 15
Avocados
Sweet Corn
Pineapples
Cabbage
Sweet Peas (frozen)
Onions
Asparagus
Mangoes
Papayas
Kiwi
Eggplant
Grapefruit
Cantaloupe
Cauliflower.
Source: http://www.ewg.org/release/apples-top-dirty-dozen-list-fifth-year-row