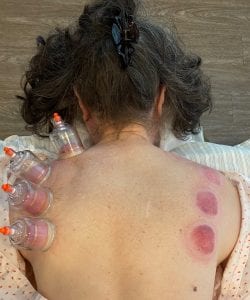 Cupping plus acupuncture helps you get in the flow for the change of seasons, and can help release built-up toxins in your system. This is the way to jump start your Qi for Spring!
8 cups and 8 needles and you're good to go!
A "cupping detox" is applied to your shoulder blades and top of shoulders. The supporting acupuncture treatment is 8 needles, and you rest for approx. 20 minutes with needles in – chill time!
This is a perfect treatment for you if you…
1. regularly enjoy a drink or two or three
2. if you take any prescription, Tylenol, Motrin, other over-the-counter drugs, or recreational drugs, or if you took a short course of necessary drugs, like antibiotics, steroids or anti-fungal meds
3. if you have a sweet-tooth that frequently needs indulging
4. if your bowels are irregular
5. or you've had surgery in the last year (and have successfully recovered).
6. if you recently went on a juice fast or cleansing/detox program
7. or if you're feeling sluggish because … pandemic??!
This is not a particularly good option for you at this time if you are currently dealing with an infectious disease or active illness, or undergoing conventional treatment for cancer.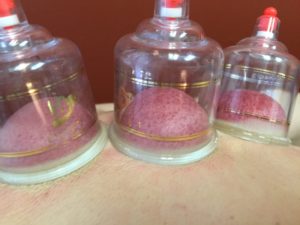 What to do after your treatment: DO drink a lot of water after your treatment, at least 2 quarts before bed. Keep your upper back covered and stay out drafts for the first 36-48 hours. DO NOT schedule a strenuous work-out after your treatment. Best to wait for the following day for that.
If you're not sure if a Spring Change of Seasons treatment is right for you, please call for a complimentary consultation.
The Spring Cupping + Acupuncture special is currently available Wednesdays & Fridays. Call now to for a brief screening and to schedule your appointment: 323-380-8042
Treatment is 30-45 minutes, $65.