Since opening my practice in 1997, I've studied with a variety of teachers and learned a variety of techniques to help relieve pain, improve digestion and sleep, reduce stress and anxiety, and even reduce fine lines and wrinkles. And now I'm happy to offer Classical Five Element Acupuncture, which gives you profound access to vitality of body, mind and spirit. Please read on to see how three of my patients feel about this style of treatment (spoiler alert; they love it)!
If you've been treated by more than one acupuncturist, you know that we all have our unique styles and philosophy about treatment. We all use similar tools (needles, moxibustion, gua sha, cupping, massage oils) and have a similar vocabulary, but we deploy them uniquely. That combination of practitioner and style is what makes for a good fit for you and your needs.
Despite relieving pain and other illnesses, I continue to see people suffering at more than just the physical level. I have searched for ways to serve my patients at their highest level of need, and that's why I'm integrating Classical Five Element acupuncture into my practice.   This stand-alone system of acupuncture, with its unique diagnosis and treatment style, has the potential to ease suffering at a deep and profound level.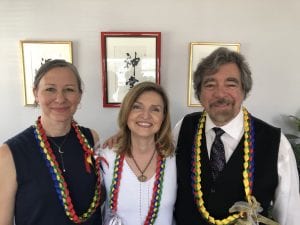 As life would have it, my very first experience as an acupuncture patient in 1983 was in this style.  After all these years, I've circled back around to it again as a patient myself, and now I am able to offer it to you. After a year of intensive study, I am pleased to announce that I am certified as a Classical Five Element practitioner, in the tradition and lineage of Professor J.R. Worsley.
INTRODUCING CLASSICAL FIVE ELEMENT ACUPUNCTURE:  For thousands of years across many cultures we have looked to nature as a model to explain phenomena in the body. The Chinese recognized five elements: Wood, Fire, Earth, Metal and Water. They exist everywhere in everyone and are essential for life. We all contain all the elements and their attributes. They confer the ability to plan and decide, how we relate to others, how we process information, how we handle obstacles and opportunities.
Each of the five Elements has a cluster of characteristics and attributes. However, the five Elements expreses differently in each of us, and reflects our individuality. For example, Water can be expressed an as ocean, a river, or a babbling brook. Wood can be a seed or a mighty tree. Fire can be a raging inferno, a warm fireplace, or a candle. So even though we diagnose and treat according to an Element, no one expresses the same way. Therefore, when you come in for treatment, you and what's up for you that day demand a particular one-of-a-kind plan at each visit.
Unique to Classical Five Element Acupuncture, we diagnose and identify the root imbalance, which is known as the Causative Factor. It is the cause and source of our suffering, and expresses at the level of body, mind and/or spirit.  The Causative Factor usually emerges early in life as a response to our environment. It is expressed in the body through a combination of color, sound, emotion and scent, and is associated with one of the Elements. Because we are all unique, the Causative Factor expresses differently in each of us.  It is not our constitution, it does not mean we are a "type" and similar to others. It's simply a reflection of where we are.  And when it is recognized and treated appropriately, the pulse thrums with vitality, the eyes brighten, and the spirit is liberated. You have access to more of yourself at all levels of expression.
This method of diagnosis and treatment, as taught by Professor J.R. Worsley, recognizes how we uniquely express ourselves, with both our gifts and challenges. This treatment approach taps into our ability to heal and be harmonized in our body, mind and spirit.  When we are aligned with our authentic self, health naturally follows.   This medicine creates access to the gifts within each of us. When addressed this way, physical symptoms begin to diminish and fall away.  This allows us to live with vitality, resiliency, grace and satisfaction.
WHAT TO EXPECT IN A CLASSICAL FIVE ELEMENT TREATMENT:  First we talk about how you are feeling and what your concerns/issues are. Then your pulses are taken.  The treatment emerges from there.  Most, but not all, points will be treated with moxibustion (explained below) prior to needling. Your treatment is elegant and simple, with fewer points than you may be accustomed to.  Most needles are inserted and removed immediately. I am in the room with you the entire time.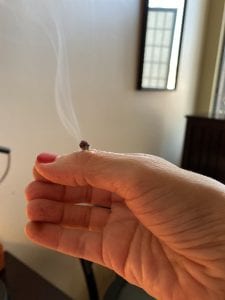 Moxibustion is the burning of the herb mugwort (artemesia vulgaris), on an acupuncture point.  It is rolled into rice grain sized "cones", and a short series of these "cones" are used on each acupuncture point. Afterwards, the point is cleaned, and then needled.
When asked how they've responded to Classical Five Element treatments, my patients reported this:
"I feel a deep sense of well-being, which allows me to navigate challenges with calm. I feel better equipped to solve problems when they come up. It feels like a much deeper treatment than other kinds of acupuncture." -KB, Woodland Hills
"I feel as though my whole person is being treated, not just my symptoms. I feel truly cared for, seen, heard, and regarded, and that respect extends throughout the treatment."  -MKH, Studio City
"My previous treatments resulted in a noticeable difference getting off the table, but they tended to wear off quickly. These treatments seem more profound, they last longer, and build on each other. I feel totally understood and supported. This has bolstered a deep sense of empowerment to aid my healing and growth." -SC, Los Angeles
YOUR FIRST VISIT:  For your first visit, please do not wear any perfume, strongly scented lotions or body products, and if possible refrain from wearing clothing that was dried with a dryer sheet. No make up is ideal, but at a minimum, please do not wear any foundation or eye concealer.  If you must wear make-up for work, then I'll provide a make-up remover cloth in the office.  Wear comfortable clothing.  Follow your regular routines and take any prescribed medications.
Your initial visit is 2 hours, and includes a comprehensive history and physical exam. I will test for and clear several "blocks," which are evaluated from your pulses, on points on your back, and at the fingers and toes.  Each step progresses to the next, and prepares you for future treatments.  Ideally, in the beginning, I will see you 3-4 times, approximately one week apart.  Then we'll talk about how to proceed to best support your health.
When blocks are cleared, some people respond with vitality, while others need to rest and recharge. Initial treatments act as a "reset", and everyone heals at their own pace. Some respond quickly, while others progress at a more deliberate pace.  Every treatment is unique to you and your needs on the day of treatment.
AFTER YOUR TREATMENT:  You will feel the effects of the treatment more clearly if you refrain from alcohol or weed afterwards. Listen to your body: it may want to sleep or relax or exercise. Give yourself some quiet time to observe what you are experiencing.
Curious?  Let's talk! If you haven't been in for a while, this is a great opportunity for a fresh look at how you are doing.  I'm in the office on Mondays-Wednesdays-Fridays.