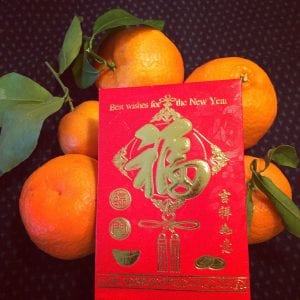 Gong xi fa cai! Happy Yin Metal Ox Year! If you want to celebrate this Lunar New Year on February 12th, you can start by eating dumplings and/or present your friends and family (or yourself) with oranges, tangerines and pomelos.
The many traditional foods of Lunar New Year, also known as the Spring Festival, are replete with symbolism, word play and wishes for health, long life and prosperity.  If you're looking for an excuse to shake up your routine, try ringing in the Lunar New Year/Spring with these foods!
I didn't grow up with any of these traditions, but learned about them as I studied acupuncture and the philosophy associated with Chinese social and language concepts.  It's fun for me to integrate some of these traditions into the day, even if I'm just doing it for myself.  It so happens that, 25 years ago, I took my California state board exam on a Lunar New Year's Day, so I wore a red wool blazer to the exam (along with my red mani/pedi) for good luck (I passed!). Since then I have a fond misty memory of that stressful day and have kept up a little celebration for myself, wearing red and having a few of these foods to celebrate.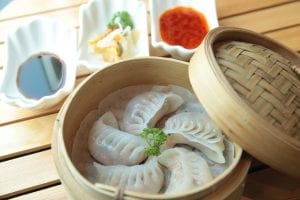 Dumplings are a favorite New Year/Spring Festival food. Their shape is reminiscent of ancient Chinese silver and gold ingots. The dumpling represents wrapping up your fortune. Eating a dumpling represents accumulating wealth and prosperity. One word for dumpling is Jiao Zi, but when different tones are emphasized in the pronunciation, it sounds like the words for "exchange" and "midnight hour."  These two concepts represent the exchange between the old and the new year. By eating dumplings you are sending away the old and welcoming the new. It's considered good luck to eat loads of dumplings during the new year celebrations!
The character for tangerine is Ju, and looks similar to Ji, which means luck. The character for orange closely resembles the word for wealth. The orange color resembles gold, and adds to the symbolic power of words associated with prosperity. A gift of mandarin oranges is considered "giving gold" and signifies wishing prosperity upon the recipient.
You might notice at the grocery store or farmers market that at this time of year the tangerines have stems and leaves on them; this is also symbolic. Many holiday foods are cooked whole, especially chickens, duck, crabs, and fish. This represents wholeness, a good beginning and a good end of the year. The leaves on citrus also represent this concept of wholeness.
Are you familiar with pomelo? It looks like a giant yellow-green grapefruit, juicy, with a pink or orange-yellow flesh. If unripe, it tastes sour. When ripe, it is sweet. It can be squeezed into juice, and the peel can be made into marmalade. Eating a sweet fruit is a wish for a sweet year ahead.  The pomelo shows up as temple offerings and celebratory gifts because it is a symbol of prosperity, good luck, and of surplus.  I bought one this week that was larger than my head and quite fragrant.
Whether you choose to celebrate Lunar New Year or not, I wish you prosperity and, of course, good health!
Dumpling Image by Pixabay