April 3rd is National Tweed Day and also National Chocolate Mousse day (really). I have a great recipe for chocolate mousse so we're going with that.
I found this recipe in the NEW YORK TIMES magazine within the last few months (pre-Covid-19), and decided to "test drive" it on dinner guests. Before we could finish our portions, they were asking for the recipe. A winner!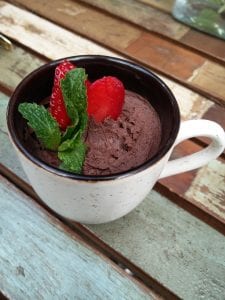 So I'm sharing it with you, but you have to promise to eat your kale and cauliflower tomorrow! And please do tell me what you think of Blender Chocolate Mousse!
Blender Chocolate Mousse
1 ½ c heavy cream
½ c granulated sugar
12 oz dark chocolate, chopped
4 large eggs, room temp
¼ cup brewed espresso or strongly brewed coffee
¼ c light or dark rum, Marsala or brandy
½ t kosher salt
In a large bowl or stand mixer on medium speed, whip the cream to glossy medium peaks, about 5 min. Set aside in the fridge. It's important to do this step first. It's important to put in the fridge, too. Don't cheat the sequence like I did and then ….. well, you don't really need to know.
In a small saucepan over gentle heat, melt the sugar with ¼ cup water until dissolved. As soon as the syrup begins to boil, turn off the heat.
Put chopped chocolate and eggs in a blender, and blend on medium-high speed while slowly pouring in the hot sugar syrup, which will melt the chocolate and cook the eggs.  Keep the blender running until the mixture is extremely smooth, then while blender is still running, stream in the espresso, rum, vanilla and salt. Keep blending till the mixture has cooled down to room temp, about 1 minute. Pause to scrape the sides as needed.
NOTE: do not use a food processor for this. Use a blender.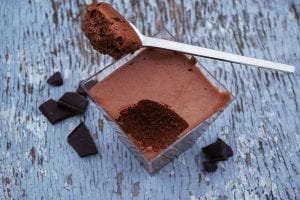 Fold one cup of the chocolate mixture into the whipped cream until smooth, then add the rest of the chocolate mixture to the whipped cream mixture, and continue to fold in until there are no streaks.  Pour into individual serving bowls, small ramekins, or glasses and set in the fridge until firm, as least 2 hrs, up to 24 hours.  You can also put it in a big bowl, and everyone can serve themselves, but portion control/impulse control will be much harder!
Prep time, approx. 20 min, unless you didn't  buy enough whipping cream and have to go back to the store in the middle of prep. Just sayin'.
According to the recipe, this makes approx. 8 servings, but it's so rich, I got 12 servings out of it. No one felt cheated. I had left-overs – win win.
Got a minute to chat about this recipe? I used dark rum and espresso. The smaller you chop the chocolate, the smoother it gets in less time, and makes your blender do less hard work.  Most bars are 4 oz, so you'll need 4 bars.  I used three 70% chocolate bars and one 90% bar because I had a 90% bar at home and we lean very dark chocolate at my house. And dark chocolate is healthier, right? Once the chocolate and eggs are blended, immediately fold in the whipped cream.  If the chocolate sits too long, it will harden in the blender and be hard to get it smooth again and the lumps (thick, chewy, dense) are impossible to get out.  The lumps ruin the fluffy texture of the mousse.
If you're feeling festive and have the time, you could top each serving with extra whipped cream and grated chocolate just before serving. Or berries and mint. 
–NYTIMES adapted from Monica Stollbach.