Taking care of ourselves during this new and unfamiliar normal demands a variety of solutions. Essential oils can help take care of your body and mind.  Not every solution or tool may be appropriate every day.  But it's good to have options. Over the next several days, I'll share a variety of options that include nutrition, herbs, movement and mindset.
This option is how to use a handful of essential oils for protection/treatment when you venture outside, and for dealing with the uncomfortable emotions that may accompany our circumstances.  I'll also include some links for easy ordering so you won't have to go out shopping for supplies.
Please note that it is important to continue to follow all CDC-recommended and state/local precautions, such as Safer-At-Home, washing hands thoroughly with soap for 20 seconds, avoiding touching your face, using hand sanitizer when soap is not available, wearing face masks when out in public, and maintaining adequate physical distance.  You can also remove your shoes when you enter your house. Continue to drink water throughout the day, which helps lift mood and thins phlegm. 
Essential Oils have been used for millennia to maintain and promote physical, psychological and spiritual well-being, across continents and cultures.  Here's how they can help you now.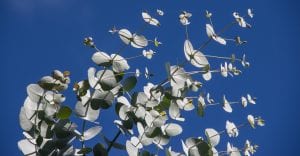 Part 1:  Anti-Viral Oils for the Prevention & Treatment of Upper Respiratory Infections: Using essential oils is another tool in your wellness toolkit.  I use them here to focus on prevention.  The following 10 oils are particularly effective so far in 2020 for the prevention and treatment of upper respiratory infections.
Eucalyptus (Globulus)
Tea Tree
Niaouli
Lemon
Cinnamon leaf
Clove
Rosemary
Thyme
Myrtle
Frankincense
Loss of sense of smell is one of the potential signs of Covid-19, so look to Eucalyptus, Basil (#11) or even Cinnamon and Clove and to help open the nose.  Eucalyptus Radiatora is gentler and is usually safe for children, while Eucalyptus Globulus is stronger and generally safe for adults.
WHAT TO BUY:  Look for organic oils whenever possible, since you are using them therapeutically.   If you have a known or suspected allergy to any of these herbs or oils, DO NOT USE THEM.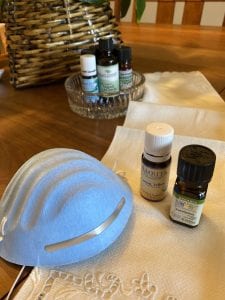 HOW TO USE:  Blending:  Blend all or some of the oils together in a dropper bottle.  If you are going to be applying them to clothing or masks, you do not need to dilute.  You can add the oils directly to a kerchief to be worn around your neck when you go outside, or to the inside or outside of your face mask/bandana when you go out in public (not for use on N95 masks). I apply the undiluted combination of oils to the inside of my face mask (letting it dry for a minute before wearing), and the fragrance lasts for over an hour.   Diluting: To make a mild topical massage or perfume blend, add  30 total drops of oil to 1 oz of carrier oil (olive oil, jojoba oil or apricot seed oil).  Test for sensitivity near your inner ankle before applying to your face.  To make a strong blend, add 60 total drops of oil to 1 oz carrier oil. Test before applying to your face. Applying: add 1-2 drops under each nostril.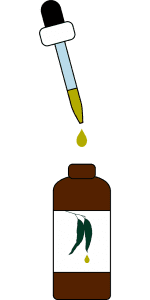 WHERE TO BUY:  I use trusted professional sites to purchase all my clinical supplies, which I am making available to you, and through them you'll receive a 15% off retail discount.  There is not a qualitative difference in the sites, but they do have a different profile of brands.  You can purchase essential oils and a glass bottle + dropper here or here, both of which are linked to my private practice. You may purchase other vitamins and supplements from these sites as well (delivery means one less reason to go out to a store).
Part 2: Essential Oils to Help Ease your Mind:  The not-knowing about when Safe-At-Home restrictions will be relaxed in the next month or even two months is creating personal and business uncertainty, stress, depression, anxiety, fear, listlessness and insomnia.  And probably other emotions as well! Essential Oils can help relieve the emotional load when they are diffused in the air or taking a foot soak or bath. And remember that our response to stress also impacts our immune system. So the more you can stay chill, despite the daunting circumstances, the stronger your body, mind and spirit will be.  Other ways to stay chill are walking, taking a dance break, and mindfulness/meditation. What works best for you?
Here are a few oils that are useful now: Cedar, Cypress, Thyme, Clary Sage, Chamomile, Orange.   You can use all of them together, or combine just a few. I would include Orange in any combination of oils.
Cedar: offers strength against persistent external forces, especially during a crisis.
Orange: disperses moodiness, creates optimism and uplift
Cypress: unearths fears that block change and helps us find new directions, helps to dispel doubt.
Thyme: helps to instill courage and valor, restores morale, lends spiritual fortitude and bodily vigor
Clary sage: strengthening yet relaxing, offers mental-emotional uplift, for nervous anxiety and depression, characterized by changeable moods, indecision and emotional confusion.
Chamomile: relieves nervous stress, frustration, resentment and irritability, especially when it builds in the solar plexus.  It helps us let go of fixed expectations, and resonates with Spring.
DIFFUSE:  if you have a diffuser, follow directions as to how many drops of oil to add.  If you are using a candle-lit diffuser, be sure you monitor the flame and water so it doesn't dry out.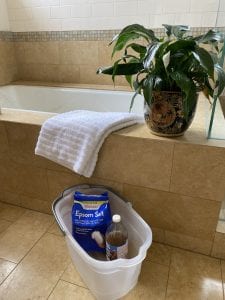 FOOT SOAK:  ½ cup Epsom salts + 10-15 drops total of oil. Put Epsom salts in a glass or ceramic cup, add oils to salt and mix well.  Fill a clean basin or bucket (it's ideal to have a dedicated bucket for this, that way your legs can soak as well) with hot water (as comfortable) and add salt/oil combo just before entering.
BATH:  ¼ cup organic milk.  Add 5-25 drops of essential oils (depending on your skin sensitivity; you may have to experiment, so start with a smaller quantity) to the milk; this will help the oils disperse throughout the water.  Run your bath and add either 3 cups Epsom salt or 3 cups unprocessed organic apple cider vinegar.  Add the milk + oils just before entering.
If you've read this far, thank you!
I care about what you think, so please let me know if you'd like some free tips, how to use nutrition to stay healthy,  and how to use Chinese herbs in the time of Covid-19.
Please reach out:    Kathleen@PortWellnessAcupuncture.com