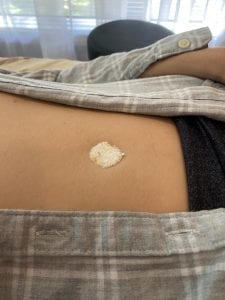 If you're new to acupuncture, you may be surprised by some of the techniques, but they have stood the test of time and still serve us today.  One of my favorite treatments is on the belly, on the navel. It gives a soothing, warm boost to the spirit.  First I'll tell you about it, and then explain it.
When I first started getting acupuncture, I didn't know anything about it.  I had just moved to a new city, far from home, and was experiencing depression, which was getting worse.  A friend suggested acupuncture.
My practitioner didn't say much, just gave me the strangest explanation of what he was about to do.
He started by filling my navel with salt. Salt??!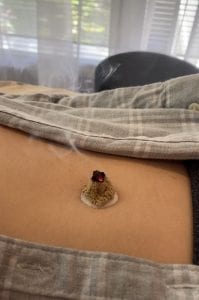 Then he rolled a large pinch of dried, fluffy herb, called moxa*,  into a navel-sized cone and set it on top of the salt.
He said, "Now I'm going to light it with this stick of incense…" but I was so surprised at that, I started laughing. My belly shook and the herb cone toppled over. So I got control of myself, became still, and he was able to light the herb cone.   IMG_2113
It burned slowly, filling the treatment room with fragrant smoke. This was so very strange, and yet so very relaxing.  When it burned almost to the level of the salt and I could feel the warmth, he removed the cone and tossed it in a small cup of water. He repeated this several times.
After a series of treatments with other points, my depression lifted. One day I commented to him that, oh by the way, I usually have back pain, but I notice it's not bothering me anymore.   That was one of my earliest experiences of a body-mind-spirit connection.  That treatment was so far out of my norm at the time, it stands out in my memory from over 30 years ago. What also stands out is how I got the salt out of my navel.**
So what was it all about?
In Chinese Five Element acupuncture, we are curious about the state of the body, mind and spirit. And sometimes, the person's highest need is at the spirit level.
Acupuncture is such a flexible healing modality that it can handle, for example, the physical pain of a sore back from gardening, as well as the mental pain of having too much responsibility, as well as the spirit-level pain of years of family distress that ends up gripping the back.
Back then, I was suffering at the spirit level. This point helped revive my spirit, as part of a course of treatments. It gave me enough of a respite from depression to see that I needed a more help untangling the emotions that resulted in depression. So I began a productive course of psychotherapy.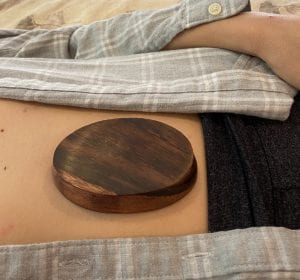 Not everyone who needs a spirit-level acupuncture treatment needs psychotherapy. But it's good to know when to add another health care practitioner to your team, if necessary. Ask your acupuncturist for a referral if you need additional help.
*mugwort, artemesia vulgaris
**I rolled over, onto my side, with a small wooden bowl covering the salt. Gravity emptied most of it!