To gather information, you ask Siri, search Google or go to a website. For advice, you can ask a trusted teacher, a coach or therapist, or a spouse, friend or sibling. You'll find all sorts of advice, and some of it may actually help!
You may not take any of it, but rather use the advice to hone your sense of what you DON'T want to do. And in the process of eliminating various options, you move closer to what feels right. This is the process of learning to listen to yourself, and trusting your ability to make good decisions.
If you're not used to listening to your gut, this can be an unsettling process. You have to learn to recognize the signs and sound of your knowing, of your wisdom voice. That comes with practice.
How do you feel when you've made a great decision? Maybe it happens quickly. You just KNOW. Other times, you might feel nervous, but still excited. Or, other things might start falling into place right away, as though in agreement with your decision. You might have a body sensation that tells you "yes." One of my teachers used to experience a small twitch behind his ears when he was going in the right direction. Some people can't tune in to that voice or sensation, so they use a tool like a pendulum or muscle testing to "translate" the sensation into a sign.
On the contrary, some people develop nervous tics when they find themselves being backed into a corner or rushed to make an uncomfortable choice. Or they have an inexplicable bad feeling about walking or going somewhere and suddenly change their plans. Some people break out in hives. They may feel like they have a lump in their throat, or their throat can't be cleared. Or their bowels rebel. It's just as important, if not more so, to listen to your warning voice as it is your wisdom voice.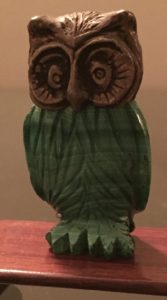 There are times when we have to make decisions in the face of challenging circumstances. This is where some kind of sitting or meditation practice usually pays off. As you still your body and mind, you may be in a better position to "hear" your solutions. Most of the time, when I'm struggling with a decision, sitting is torture, and there's no way I can take this advice! I need to move, so I go for long walks with my dog. Moving my body helps still my mind.
In acupuncture's Five Element Theory, the arms & legs belong to digestion, and the positive mental state that accompanies digestion is contemplation. Think of it like this: movement helps you "digest" a situation so that you can regard it with equanimity. The body supports the mind in doing its productive work.    The more you listen for your wisdom voice, the better you'll be able to hear it through the clutter and noise and busyness of your daily routine.
The voice that's calling to you is your own. You know what to do.