You want to stay well through the Fall and Winter, yes? You might have caught the flu last season and don't want that to hit you again. Maybe you're pushing yourself hard to complete a project or meet a goal. Maybe you're a tired parent, a tired professional or a tired student. Maybe you're just tired, or is it more like being on the verge of exhaustion?  You might just be an ideal candidate for a moxa treatment (or two) this month!
What is moxa and why November?
Moxa refers to both the dried herb Artemesia /Mugwort Leaf/Ai Ye as well as a shorthand reference to the topical application of it to the body (the official term is moxibustion, combining moxa + combustion, or burning).
Moxibustion refers to igniting the moxa, like a cigar or stick of incense, and burning it on or near the body.  Moxa is deeply warming and is an ideal treatment as we transition deeper into the chill of Fall and Winter.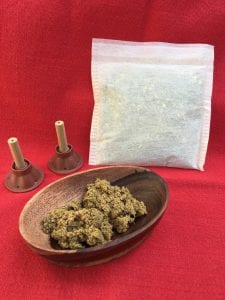 Moxa is an easy way to supplant or nourish the body's Qi.   In particular, it has the potential to give our immune system, our Defensive Qi, a boost. Illness is said to invade the body more deeply if one contracts it during this time, and moxa protects the body from pathogens gaining access to the deepest layers of our being. So receiving moxa during Moxa Season allows us to gain ground that could easily be lost if we were to become ill in the Fall or Winter.
November is considered the interval of time when the Ming Men or "life gate" (an acupuncture point located on the lower back) is open and the body is receptive to the benefits of moxa. It is believed this gate is wide open for two weeks, but it begins to open a week prior, and is not fully closed for an approximate week after as well. So that is why we count the whole month of November as Moxa Season. The Ming Men or Life Gate is a way to strengthen the body's Kidney Yang Qi, one of the most vital kinds of Qi we use through many phases of our life. The scholar Zhang Jie Bin (1563-1640) described the Ming Men Life Gate, in part, as "the organ of both Fire and Water, the residence of Yin and Yang, the Sea of Essence, and it determines life and death."
Moxa will benefit other parts of the body, and other acupuncture points as well.
My earliest experience with moxa was over 35 years ago, and it was on my navel. It was at a time when I was quite worn down, and it was deeply nourishing.  The "salty navel moxa" treatment is not for everyone, but when called for, it's a wonderful treatment.  Here's what happens: the navel is filled with salt, and then one or more large moxa cones are burned on the salt. The result is a deep, penetrating and nourishing warmth to your center. Ask me how we get the salt out of your navel!
3 Ways to Moxa
The BEST way to receive it is to come in for a moxa treatment! Call or text me at at 310-617-4194 to schedule your appointment on Monday-Wednesday-Friday. A few weekend times are available by request.
Burn some moxa at home on yourself. I'll send you home with easy to use sticks and instructions.
Take a moxa bath with mugwort sachets; I have them on hand. Not a bath person? Don't have your ideal tub? Get a bucket and make it a foot bath. The Ming Men gate is related to the sole of the foot and ankle, so it will be happy to receive some moxa "love". Start your bath or foot soak by boiling water and steeping the sachet first for maximum extraction, then add that to the bath or soak, till you have a comfortable water temp.
And 3 "Why"s to Moxa
Strengthen your Defensive Qi
Protect and strengthen your Kidney Yang Qi
Stay healthy and strong through the Fall and Winter
Moxa can be added to your treatment the next time you come in, or can be a stand-alone treatment. Let's talk about what's best for you.
Three Pots of Tea: This is the collective wisdom and perspective of three women who have been studying and practicing acupuncture and herbal medicine for over 20 years each. We have consumed countless pots of tea as we compared notes, case studies, and furthered our education in our commitment to grow as practitioners and help our patients reclaim their health and vitality.

Kathleen Port, L.Ac. West Los Angeles, Kia Sinay, L.Ac. Manhattan Beach, Therese Walsh-Van Keuren, PhD, L.Ac, Los Gatos