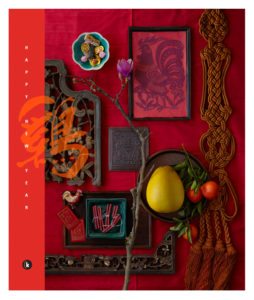 2017 is a Yin Fire Rooster year, and it began on January 28th. It points to a somewhat calmer year by contrast to the shenanigans and disruption of the 2016 Monkey year. Chinese astrology considers the nature of each animal in the zodiac, and how the dynamics of this particular year affect the nature of the featured animal. 2016 was a Yang Fire year, both illuminating and harsh. Yang Fire burns so brightly that it can't be sustained for very long; it becomes exhausted. 2017 is a Yin Fire year; a lesser Fire, less intensity than last year (still volatile) but dialed back.
One of the Rooster's purposes is to call out at the morning, waking others to face the day. This Rooster is waking us to the challenges of the year ahead, and encourages us to work together.
Much of the energy of this year will be spent dealing with the consequences of events that transpired last year, attended to with the sensibilities of Rooster. The nature of Rooster is considered Yin Metal, and the annual changing aspect for 2017 is Yin Fire, considered a combustible combination. So look for the Fire aspect to drive some of the dynamics of the year. As we deal with the consequences of 2016, we may see tempers flare, heightened reactions, incendiary words and sparks flying.   Yin Fire represents illusionary optimism or wealth, and this may distract from the larger issues ahead. Yin Fire is also like a flashlight that shines into corners of darkness that were formerly hidden so what is hiding can be revealed. If we're lucky, it may also help create some open-mindedness. Fire, when healthy, promises optimism and joy, which has the potential to balance out some of the problematic Fire dynamics of the year.
What is the significance of describing annual energies in terms of the elements of Fire and Metal? Five Element theory is used in acupuncture. It is a useful tool for describing patterns, relationships, cycles and changes. When the year changes, various elements are put in motion and we can see how they balance, restrain and generate the unfolding months. Plants grow in the spring, and young saplings become Wood. Wood is burned to become summer's Fire. The ashes of Fire cool and become summer's Earth. Earth cools in fall, becomes mineralized and generates Metal. Finally, Winter's Water nourishes the seedlings that emerge as Wood in the spring. The seasons come full circle. It helps to see that although something may be disruptive or wacky in one area, it has the potential to be balanced or nurtured by something more reasonable and uplifting elsewhere. Since people, nature and the Five Elements are in constant motion, it behooves us to pay attention to shifting energies individually and in our communities. Thus, the Fire Rooster affects everyone differently.
The Rooster is considered a Yin symbol,, even though it is a male animal. So Yin people – such as women and those at the lower end of the power structure – have the potential to be more acknowledged and have the opportunity to experience strength in their numbers.   2017 brings an opportunity for these Yin folks to find a stronger voice to express their needs and rights, particularly if we "flock together". Just like chickens will flock together to fight off predators, this year points to the power of groups to raise their voices to accomplish protection and safety. Every flock has a hierarchy. The 2017 combination of Yin Fire and Yin Metal indicate that some of the current hierarchies will probably be reshuffled. It could also be reflected in the disruption of entrenched bureaucracies and stratified institutions. A newly-organized "flock" will also need some Roosters in charge who will give voice to the group and call out/awaken others to join the effort.
One of Rooster's qualities, according to Chinese metaphysicians, is honesty.   That combination of honesty, plus the illumination by Fire, means that the Shadow side of bad actors may be revealed regarding scandals, deceptions, repression and a variety of large or small crimes and subterfuges. Underhanded dealings may come to light and face scrutiny is some strange ways.   This is another way that entrenched bureaucracies can be upended.
Yin Fire is also like a candle flame – changeable and unstable. So be prepared for a change of mind, shifting emotions, and in general more emotions at the surface.   This will be particularly true politically, which means it will be tough year for diplomacy. Domineering behavior will become increasingly offensive and there will be more pushback against it. Bickering, anxiety, tension and frayed nerves may surface. Repressed emotions may explode in anger. Non-verbal communication (another Yin dynamic) may help here; BE the presence you wish to experience. Rooster behavior is evidenced by fidelity and integrity, and these traits will be assets to new leaders on small and large stages.
And yet despite these problematic emotions and reactions, it will be easier on a personal level to let a lot of them pass, and reestablish your affectionate and loving connection to family and friends. This is the year to cultivate recreation and entertainment with like-minded individuals or family. Look for simple pleasures to lift your spirits.
This is a good year for career development, particularly with collaboration and team-building (remember the flock?). Most areas of science also benefit from a Rooster year, and innovations will be appreciated and rewarded. Rooster children should do well academically.
A Rooster year brings Peach Blossom Luck (particularly for Monkeys, Rats and Dragons). This means you attract more people for many reasons, and you also attract romantic interest. So acting charming, being charismatic, and being well-put together – "strutting your stuff" – will help you be successful. And if you are in an industry that helps people achieve a striking image, this may also be a beneficial year for you.
Fire is associated with the heart organ and Heart System (in acupuncture), so be mindful of your heart health. Keep up with medical appointments and if you currently take medications for your heart, be vigilant. If you've been putting off a check-up, schedule it before the month is over. If you find yourself sitting for long periods, then resolve to stand more, at least once an hour (even if you're watching tv at home). It will help boost your body's metabolism, which helps your heart. Pair standing with drinking a glass of water, because proper hydration is another healthy habit.
The Monkey frayed a lot of nerves last year, so 2017 is a great year to practice calming your nerves. If you haven't tried meditation yet (really??), now is the time! There are plenty of options out there to explore, and Sounds True (http://www.soundstrue.com/store/) is a site with a lot of well-known and gifted teachers, and lots of choices. If you're not consistent with meditation, then explore other ways to achieve equilibrium (yoga, walking, tai qi, qi gong gardening, cooking, or, if all else fails, try a coloring book). This is the second year that the Water element is deficient, so people may experience more fatigue. The Water element is related to the Kidney system, which also governs teeth and bones, so be mindful if those are problem areas for you. Be vigilant about dental hygiene. Take your calcium, wear appropriate pads for sports, include resistance training and watch for falls and bone breaks.
Identify lifestyle choices that lead you towards health and vitality, and make them. It doesn't have to be big to be effective. Need to start somewhere? Stop eating after 7 p.m. Go vegetarian 3 days a week. Reduce or eliminate all added sugar. Start your workday in a power pose for 2 minutes. Sit quietly for 3 minutes once a day (no screens).
Thanks to Lilian Bridges for her insights.