Many years ago, I was taking a yoga teacher training class from the renowned teacher BKS Iyengar, and he was not happy with the level of attention of our class. He accused us of being "monkeys who had been drinking beer and had just been bitten by a scorpion."  Even though we are finding ways to adapt, connect, and lighten up during the Covid-19 pandemic, we are all facing big changes and it's challenging.
Like today. For me.  So I went for a morning  walk/meditation to clear my mind and try to find an even emotional keel.  Before I tell you WHAT I did, please let me tell you WHY I did it.
EARTH ELEMENT:  The acupuncture theory of correspondences explains that the arms and legs are governed by the Earth element and the organs of digestion.  The positive Earth mental state is contemplation, and the distressed state is perseveration or obsession.  In a healthy environment, we can grasp a situation and know how to handle it, we can consider it with equanimity.  In distress, we might obsess, perseverate or shut down.  One might say we cannot "digest" the circumstances, and we become perturbed. So by exercising or taking a walk and moving our arms and legs, we return circulation to our vital organs and brain, and thus energized have access to more vitality of body, mind and spirit.  So keep exercising, even if all you can manage is a dance break; go ahead and bust a move or two!
WATER ELEMENT: The Water organs are the Kidneys and Bladder. The positive emotion associated with Water is courage, and the challenging emotion is fear. One may experience tremendous vitality and creativity, or exhaustion and depletion. The Kidney channel starts on the bottom of the foot, where we connect with the earth, where we ground and stabilize ourselves. It ascends along the inner leg, up and just adjacent to the center of the body, up the ribs end ends near the inner clavicle. The Bladder channel courses from the inner eye, up over the head, along the back and back of the legs, and ends at the pinky toe. So being able to stay grounded during unsettling, destabilizing circumstances is imperative.
Now that you know why it's important to simultaneously move and be grounded, here are three practices to help manage that monkey-scorpion-beer mind.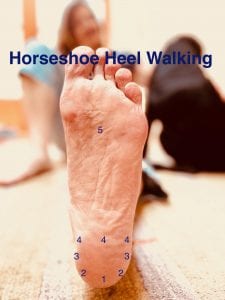 Horseshoe Heel Walking:  This is a walking meditation with the intention of grounding yourself as you move.  Bring your focus to the "horseshoe" of your heel. As you step down, focus on the back center (1), then on the inside and outside edges (2 and 3) evenly until the heel is fully placed (4), then push off at the center of the ball of the foot, towards the front (5). It happens quickly.  As you engage your attention to this, your foot and leg awakens. Your inner and back legs engage dynamically. As this happens, your pelvis shifts into neutral and your spine recovers its healthy curves as it naturally extends. As your spine lifts, your chest also lifts and expands, allowing deeper breathing.  Deeper breathing refreshes the body, mind and spirit.  Can't get outside? Then walk around your space barefoot and explore the sensation on your feet, legs and everything  else.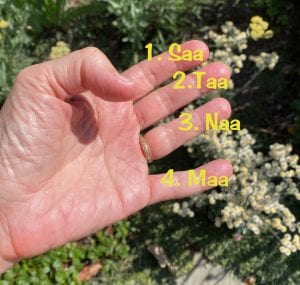 Finger Touching Mantra: Saa Taa Naa Maa:  This is a Kundalini meditation, called Kirtan Kriya.  I like meditating with mantra because it engages and grounds my mind and prevents it from getting lost in thought and run-away emotion. This meditation is said to support total brain health by providing balance, clarity, equanimity, and help with memory. I like it because it engages my mind, by repeating the mantra, as well as my body, by focusing on the repetitive sequence of touching thumb to index, middle, ring, and pinky finger, with both hands.  I first learned it from a brilliant psychologist (thank you, Paula) and then years later from one of my acupuncture teachers when we were in the midst of a year-long intensive training (thank you, Mary).  When I need to still my mind, this is one of the tools I use that is literally at my fingertips.  I do not practice Kundalini yoga or meditation, and no doubt there is much more to this meditation than what I experience.  But I like and use this.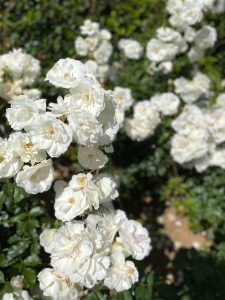 See it-Name it: When your emotions run high, there is an excellent chance you are in your head, not in your body. At its worse, we dissociate, such as when we've experienced trauma.  More benignly, we just can't concentrate.  Grounding in the present moment helps integrate your body and mind.  One way to do that is to name out loud what you see and/or hear.  It can be anything you see and/or hear as you walk, or can be a category of things.  "I hear a bird, I see a finch, I hear the parrots, I hear a siren, I see a Stop sign, I see a motorcycle, I see Carol and her dog."  Or name a category, for example:  all red things.  Then move on to another color, maybe all yellow things, then all white things.  Or you can take it a step further and be specific and/or elaborate. White roses… 21 white rose bushes… fragrant white rose bushes with bees. Or give your inner college freshman in creative writing class free rein: a frothy breaking wave of white rose petals like the crest of the surf in north Malibu.  Then move on to the next thing you see and describe it in excruciating or exquisite detail. This exercise grounds you in the present and lets you flex your brain on something besides what you've been worrying about.
Tell me what you tried, and your experience!  Take care, friends.