Living (and doing a lot of driving) in Los Angeles, we often are stuck in a traffic jam, whether it's a 10-lane freeway or a 4-lane local shopping village. Pain is a sign that there is a "traffic jam" somewhere in your body, and acupuncture excels in relieving the" jam." It's one of the reasons why insurance companies will cover acupuncture treatments: acupuncture provides effective pain relief (before scheduling an appointment, check to see what your plan covers).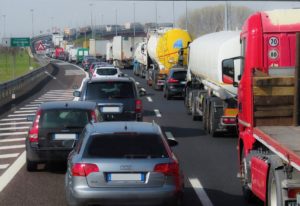 Pain is a sign that blood and/or oxygen is not flowing through an area. So treatment is designed to unblock the "traffic jam" and promote movement and circulation of oxygen and blood (Qi and Blood). Sometimes there are other contributing factors like Heat or Cold or even the poetically described "Wind" (for symptoms that move around, come and go, are twitchy, or come on suddenly like 'catching a cold').
The opposite of this is hearing someone talk about being absorbed on a project and "being in the flow" or "in the zone". It's the opposite of a traffic jam; things are flowing smoothly and optimally. Your body moves with ease.
Where are your traffic jams? Do you grind your teeth at night, resulting in jaw tension (or even cracked molars)? Maybe you tweaked your back or legs during a marathon gardening session over the weekend. Heavy phone use can lead to pain in the wrist and thumbs. Even recovering from surgery is a kind of jam: you need the incision to heal but you want it to do so with minimal swelling, redness and pain. The more insidious "jam" is when you have on-going heavy time or activity demands that gradually begin to erode your reserves, such as caring for someone ill or a months-long project. There may not be one specific problem, but a tangled constellation of them.
Another kind of jam comes on more slowly, and then becomes complicated. Say your hip starts hurting. Your body is trying to figure out a way for you to keep going, so it modifies your gait and posture just a little. Then you begin holding your back or other hip to accommodate it. You were too busy to handle it when it first happened, so now it hurts a little more. But you've got a trip planned, and now you're lugging a tote and carry-on luggage – ouch. And before too long you're limping from time to time, because the bum hip gives out pretty quickly under stress. And the holding pattern is now affecting your mid-back. And when you sit too long, it creeps up into your shoulders. And finally, you're trying to hold up your hip and back with your shoulders, which are creeping up to your ears. Ugh! This really happens, people!
A classic way to describe health is to compare the flow of Qi & Blood to a river. Problems occur if a boulder tumbles in and blocks the water flow. Or a tree falls in and dams a portion of it. Then some water will stop flowing and become stagnant, maybe breeding insects. Down river, there may be less water flowing, which will impact those animals and vegetation.   So lack of flow creates different kinds of problems, both of which are recognized by acupuncture theory, as issues of both Excess and Deficiency.
Pain is an easy way of illustrating the results of lack of oxygen and blood circulation. But it can also happen with digestive upset, difficult menstruation, sexual health, even depression and anxiety. Something isn't moving along, organ systems are not communicating with each other, and your feeling of well-being is starting to degrade.
Your acupuncture treatments will untangle the blocks and help restore flow.