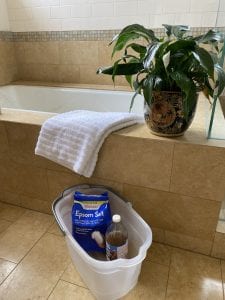 Five reasons why you should make a foot soak with essential oils as a part of your self-care now:
You only need 3 or 4 gallons/15 liters of water max
It takes less time to fill up a bucket/basin than a bathtub
It only takes a few drops of essential oils to make it special.
Your hands stay dry (so you can check your phone, if you must)
You're not confined to a bathtub; you can take it anywhere!
You can keep your clothes on (a plus in winter)
Until a few years ago, I was a "bath" person. I didn't take them often, but when I did, I made them just to my liking, using essential oils, apple cider vinegar, seaweed, sea salt, pink Himalayan salt, or Epsom salts (not all at once, just sayin').  I also have a great bathtub, and a pillow that supported my neck.  Why take a foot soak when you can take a bath?
Well, life! My schedule got busy, there were always household chores and things to do for work. And before the pandemic, there was travel and entertainment that kept me on the go. So even though I now have more time at home for a bath, I still find myself less resistant to mobilizing for a foot soak rather than a bath.  After my first home foot soak, I was convinced: it can be just as powerful and refreshing as a whole-body bath. Less prep and water than a bath, very time efficient.
SUPPLIES: For one bath you'll need ½ cup of Epsom salts (unscented), a clean bucket, and a glass or ceramic bowl to mix the oil and Epsom salts.
Epsom salts are easy to pick up at the grocery or drug store, or add to your next Amazon order.
I initially used a bucket I had on hand, but then when I decided to get more serious about it, I bought a dedicated foot soak bucket. To make sure it was right for my intended purpose, I wore sandals to the hardware store, slipped them off and put both feet in the bucket to make sure it was comfortably wide (pre-pandemic), and saw that the water level could go to mid-calf, better yet!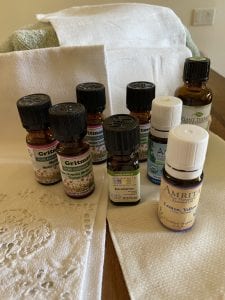 Level-up with essential oils:  A simple salt soak is great, but you can easily upgrade it by making a foot soak with essential oils.  In a recent post, I shared two essential oils that are great for fall.  If that appeals to you, shop for organic or wild-crafted oils from reputable sources (I've included some below). You're also welcome to shop through me, which supports my practice, and I do appreciate your support. Many people have Tea Tree, Lavender or Mint on hand, and those are great, multi-use oils. I like adding essential oil of Lemon or Orange to Lavender. I'm also a fan of Vetiver to ground and balance the uplifting quality of the Fall oils.
If you're feeling adventuresome and decide to blend two oils,  just make sure you don't exceed 10 drops total per ½ cup of salt.  How to determine if your blend is pleasing?   The best way to determine a good combo is to hold two open essential oil bottles next to each other, then pass them under both nostrils, back and forth a few times. That will give you a general sense of how successful the combination is.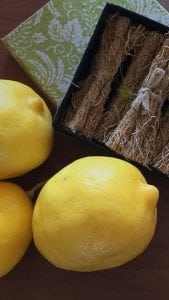 How about tea? Don't want to purchase essential oils?  Brew a strong cup of chamomile or mint herb tea and add that to your foot soak.  Or you can add a chunk of fresh ginger (slice it up so the water has access to more cut sides) for a warming effect. You can add some fresh organic orange or lemon slices as well. When you cut the skins, the essential oil from the skin will give the fresh citrus a slightly bigger kick.  If you have fresh lavender or rosemary in your garden, you can also add that; just bruise the flowers or leaves to release their oils first. Rosemary and lemon are great for sore and tired muscles, so keep that in mind if you want to take an herby bath!
Mixing: place ½ cup of Epsom salts in a glass or stainless steel bowl. Add 7-10 drops of organic essential oil (Pine or Clary Sage for Fall). Mix well, with a stainless steel spoon, until the oils have been completely absorbed into the salts.
SAFETY NOTE: You know how we sometimes think, "if a little is good, more is better"? Not so much here! Essential oils, while natural, are potent. If you are a sensitive person with sensitive skin, you may need less oil, but you can still achieve a good effect. If you enjoy strong sensations, you may want to kick it up a notch (3-7 more drops). Also, since these oils will be in contact with your body, purchase organic or wild-crafted whenever possible, from a trusted source. Do not soak your feet if you have an open wound or sore or blister. 
START SOAKING: Add your salt/oil  or tea/salt combo to the bucket. Fill it with as warm to hot water as you can tolerate, the higher the water level the better; allow for water displacement once your feet are in. Have a towel nearby, and a glass of water to sip. The water will cool off in 15-25 minutes. You can sit quietly with your eyes closed (try that meditation thing everyone is talking about!), read a book, listen to a podcast, write in your journal or look out the window and observe your surroundings.
FUTURE FOOT SOAKS: If you enjoyed your foot soak, then consider making a bigger batch for convenience for your next one. Start with two cups of Epsom salts and a glass jar with lid to store your finished product. Use a maximum of 28-40 drops, depending on your tolerance. Keep the lid on securely so the oils don't lose their potency. Store in a cool, dry place until you are ready for your next foot soak.
Here are some trusted essential oil suppliers: Mountain Rose Herbs,  Snow Lotus, Gritman, Tisserand and Original Swiss Aromatics.
Continue to take periodic foot soaks with these oils through mid-December. Then stay tuned for the Winter essential oil installment!