There are a handful of ways we can stay in tune with the changing seasons, beyond pumpkin spice! One of my favorites is using essential oils that resonate, according to acupuncture and herbal  theory, with the current season. Clary Sage, Pine and Hyssop are all considered Fall oils, and have a powerful effect on the Lung organ and Lung system, which are associated with Fall. In acupuncture theory, the Lungs also govern our Protective Qi (Wei Qi), to keep us safe from external pathogens and illnesses. These oils range from a neutral temperature to warm to hot, and all are invigorating. They protect, inspire and uplift.   Take a deep inhalation of air into your lungs and feel the power waiting to be unleashed with action, brave words, determination, insight and (literal and figurative) inspiration.
At the end of this article, I've included a recipe for a foot soak, and some trusted essential oil resources.
Clary Sage is an important and versatile oil, and its nature is neutral and dry. It helps calm tension and revive fatigue. It both strengthens Qi that is depleted, and relaxes and circulates Qi that is "stuck." It is indicated for muscular stiffness, tired and aching legs, headaches and migraines. It can be used for digestive disturbances, as well as to ease premenstrual tension and menstrual pain.   It helps to open the chest, to strengthen and circulate Lung Qi, and to relieve the fatigue that comes from shallow breathing.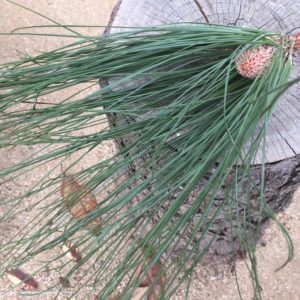 This ability to calm and uplift can be mildly euphoric, and is one of the reasons Clary Sage is renowned. This type of uplift is, however, grounded in reality. It reassures and steadies the mind, while enlivening the senses and dispelling illusion, restoring the clarity invoked by its name. When one's mood is changeable, indecisive and burdened by emotional confusion, Clary Sage can help dispel this fog. In fact, the word Clary comes from the Latin clarus, meaning "clear," reflecting the role of this plant in the treatment of eye issues.
Clary Sage has the ability to lift despondency and worry, and help reaffirm our instinct for our life's purpose. It helps us "see clearly" in this moment, to connect with our intuitive insight.
The best essential oil of Pine is distilled from the needles alone, although the young branches and cones can also be used. According to herbal theory, pine oil is warm and dry and tonifies Qi. It is indicated for a wide variety of lung issues, particularly those with white or clear phlegm. It can help relieve arthritis. Pine is indicated for those with exhaustion coupled with shallow breathing and low back ache.
Its affinity for the Lungs underscores its effect on our "vital spirit". By opening the chest, it instills and restores emotional positivity and helps to restore our self-confidence. It disperses melancholy and counteracts pessimism. Gabriel Mojay describes it as an Herb of Protection, indicated for those with weak boundaries or who take on others responsibilities as their own.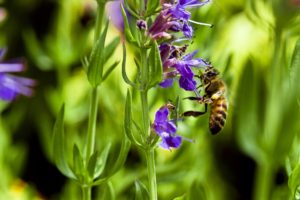 The flowers of Hyssop are strong, aromatic and are attractive to bees and butterflies. It has been used as a culinary, medicinal and ritual herb for thousands of years. Hyssop is classified in herbal theory as hot, dry, and stimulating; therefore it should be used in moderation (for example, only 4 drops for a complete aromatherapy massage). It benefits poor vitality, breathlessness and immune deficiency. It can help prevent the recurrence of colds and flu, and fights infection. It can also be used for appetite loss, bloating and slow digestion.
It has an invigorating effect on the mind, and is frequently recommended for poor concentration, short-term mental fatigue, pessimism and melancholy. By opening the chest – again, this affiliation with the Lung – it helps us face the world, counteracting the urge to withdraw. Yet at the same time, Hyssop is considered another one of the Herbs of Protection. It helps us defend ourselves (boundaries) from negative influences, both physical and psychological. This is an ideal oil for those who are easily affected by others' moods and emotions, and tensions in the environment. When we feel cleansed of confused thoughts and negative emotions we can sharpen our awareness and access spiritual insight.
You can diffuse essential oils near your favorite chair or at your desk, or even by your bed at night. Don't have a diffuser? Then add 4 or 5 drops to a cotton ball or tissue, and place it on a ceramic or glass dish (so the oil doesn't affect your furniture) and let it evaporate.
How to make a lovely little Fall foot soak:
NOTE: essential oils, while natural, are potent. If you are a sensitive person with sensitive skin, you may need less oil but can still achieve a good effect. If you enjoy strong sensations, you may want to kick it up a notch. Also, since these oils will be in contact with your body, purchase organic or wild-crafted whenever possible, from a trusted source. Do not soak your feet if you have an open wound or sore or blister.
SUPPLIES: You'll need ½ cup of Epsom salts (unscented), a clean bucket, and a glass or ceramic bowl to mix the oil and Epsom salts.
MIXING IT UP: To be cautious, use only 2 drops of Hyssop per ½ cup Epsom salts, although you can use up to 7-10 drops of Pine or Clary Sage total per ½ cup of Epsom salts. You can also create a two or three oil combo if you'd like, using a total of 5-7 drops per ½ cup of Epsom salts. Place the salts in a bowl, drop the oils on top, then mix well with a wooden spoon.
You know how we sometimes think "if a little is good, more is better"? Not so much here. Do not combine Clary Sage + Pine + Hyssop into one foot soak. If you are accustomed to using essential oils, then consider blending one you already know and like with just one of the Fall essential oils. The best way to determine a good combo is to hold two open bottles next to each other, than pass them under both nostrils, back and forth a few times. That will give you a general sense of how successful the combination is. Once you've added the oils to the salts, then it's about judging the relative quantities of each, and finding a pleasing balance. I'm a fan of Vetiver to ground and balance the uplifting quality of these Fall oils. If Lavender is your go-to oil, then see how that smells in combination with Clary Sage or Pine.
START SOAKING: Add your salt/oil combo to the bucket. Fill the it with as warm to hot water as you can tolerate, the higher the water level the better; allow for water displacement once your feet are in. Have a towel nearby, and a glass of water to sip. The water will cool off in 15-25 minutes. You can sit quietly with your eyes closed (try that meditation thing everyone is talking about!), read a book, listen to a podcast, write in your journal or look out the window and observe your surroundings in as much detail as you can describe and absorb.
A foot soak can be just as powerful and refreshing as a whole-body bath. Less prep and water than a bath, very time efficient.
FUTURE FOOT SOAKS: If you enjoyed your foot soak, then consider making a bigger batch for convenience for your next one. Start with two cups of Epsom salts and a glass jar with lid to store your finished product. Use a maximum of 20-25 drops, or more if you can tolerate it. Keep the lid on securely so the oils don't lose their potency. Store in a cool, dry place until you are ready for your next foot soak.
Here are some trusted essential oil suppliers: Snow Lotus, Gritman, Tisserand and Original Swiss Aromatics.
Continue to take periodic foot soaks with these oils through mid-December. Then stay tuned for the Winter essential oil installment!