The deciduous  trees are eloquent Fall teachers, showing us how to gracefully lose their leaves when the time is right. They do not hold on to their dried leaves in case they need them next season.
Yep, I'm still sitting with the Metal/Fall concept of "letting go" and watching as it bubbles up through my thoughts and wondering if there are more places where I can practice letting go.  If there is a Venn diagram for where I am at this moment, it is somewhere between Marie Kondo ("The Life-Changing Magic of Tidying Up" and her "spark joy" criteria),  Swedish Death Cleaning (I don't have a fatal disease at the moment, you can do it anytime), and "do I want to move this to the next house?" (if we move, and we're not planning to move just yet).
The answer is "yes."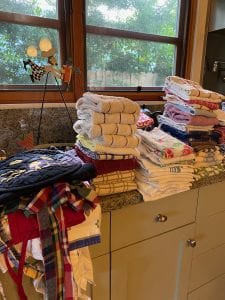 I started in what I thought would be an easy place.  the kitchen towel drawer.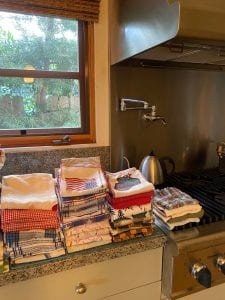 My mother-in-law made it a point to bring me holiday-themed kitchen towels over the decades, and sometimes they were accompanied by aprons, hot mitts and pot holders.  Then I picked up a few while traveling. Some found their way in as hostess gifts. Two were from my mother's kitchen (let's just say a really really really long time ago).  Also, a  few kitchen décor accents were needed after remodeling.
Some of the holiday towels are cheery and well-made. Some cottons feel so much better than others, some are sturdy, some are better for drying hands as opposed to dishes or veggies, and others are great for drying good wine glasses.  A few are just too pretty to use (I bet I'm not the only one who has useful things that are too pretty to mess up by using!)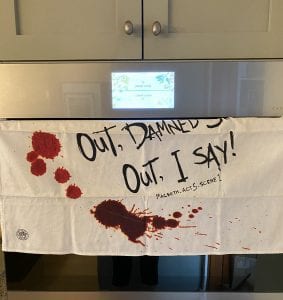 When I pulled them all out, I counted 70 kitchen towels, 24 pot holders, 7 aprons, 6 oven mitts and 1 card-table sized tablecloth.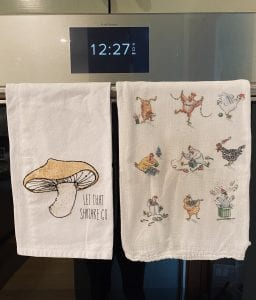 As of this writing, I'm down to 40 towels, 15 pot holders, 2 aprons, and no change on the oven mitts. I'm going to stop there for now.
I challenge you to a kitchen drawer or cabinet purge!