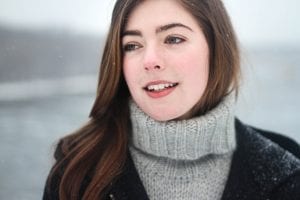 Most of us think summer skin needs more care than winter skin, but it ain't necessarily so. As long as you are still active, sweating, wearing a protective mask and exposed to weather, your skin needs TLC. Has "pandemic fatigue" hit your skin care routine?   So let's hit re-start and see what, if anything, needs a seasonal tweak.
Taking care of your skin can be as simple as washing your face at the end of the day, or you can re-look at your at home skin-care routine/products. If you are understandably concerned about going to an aesthetician for a facial (close proximity, no mask, indoors for an extended period, and depending on the virus may be disallowed), then it makes sense to pay attention to your home skin care game.
Here are 10 reasons to be vigilant about your skin during the winter:
Skin changes as the seasons change, it may be subtle or extreme depending on where you live and your activities, but your skin adapts to (or suffers from) changes of temperature and humidity.
If you are going outside for exercise and fresh air when the weather is cooler (and I hope you are), then you still need sunscreen. The sun is in a different position and not out for as long, but it's still shining and exposing you to harmful rays. It's also exposing you to helpful Vitamin D, but we must exercise caution with exposure.
If outdoor sports are your jam all year, then sunscreen is a must (unless you like that leathery look). For most people, sun damage is a major cause of the visible signs of aging, such as fine lines and wrinkles (not expression lines) and discoloration or age spots.
Sunscreen protects your skin from exposure and sunburns and might even protect you from pre-cancerous skin-conditions.
Not crazy about applying sunscreen? Think barrier protection: wear a broad-brimmed hat or over-size visor to provide adequate protection, and/or wear SPF clothing.

wearing a mask creates potential skin issues

We still need to be vigilant about protecting ourselves and others from the Covid-19 virus, so we are still wearing a mask for hours at a time. This can lead to breakouts, clogged pores and dull skin. You must be vigilant about washing your face at the end of your day. If you wear a mask to work daily, then some gentle exfoliating a few times a week might be helpful. After exfoliating, be sure to moisturize; you'll feel your moisturizer go on smoother and it absorbs better. Men, don't be afraid of exfoliation.

Wearing a reusable mask is great, but you must wash your re-usable mask regularly. So you can either wash it every few days, or have several masks in rotation. But they all should be washed regularly to prevent bacteria from building up from breath and moisture collected inside the mask. And if your re-usable mask comes with filters, then the filters should be changed out, according to the mask-maker's directions.
Not going outside much? You still need to wash your face at night. As we all have learned, we touch our face throughout the day, and our hands have oils on them, plus we're touching all sorts of things, and the residue from all those things finds its way to your face.
A cold winter might tempt you to sit close to the fireplace or heater, or take hot baths & showers, but it can dry your skin. Resist the temptation, and continue to keep up your water intake and moisturize.
And speaking of moisturizing, what with all the hand-washing throughout the day, give your hands some love at night. Moisturize your hands before bed and let it soak in while you sleep.
OK, time for a reality check.  Is any "how-to" advice just too much at this point? Then let's make it a simple one-two.  1. At the end of the day: If you're too tired to wash your face, then use a make-up remover cloth for a quick once over, followed by moisturizer. Wash your face well the next morning before starting your day. 2. Hydration works wonders for body and mind.  Have a glass of water right now.
If you want to up your skin game, please sign up for my free guide: 47 Ways to Gets Your Glow On, which you can do (just look to the sign-up on the right). You can print it out, or save a tree and just keep the file handy.
Acupuncture is also an ally in helping to support healthy and glowing skin.  I offer a special cosmetic protocol that includes body acupuncture first (to address underlying health issues) and then the face (which brings increased circulation). When you feel better, it shows in the light in your eyes and the brightness of your complexion. The over-all effect is to minimize fine lines and wrinkles, and for some people it also creates some lift. Cosmetic acupuncture helps you look the best version of you at this moment, without the exaggerated "results" of other more invasive procedures.  Ask me if cosmetic acupuncture is right for you.
Images: masked man by pasja1000 at Pixabay, sweater woman by Pexels at Pixabay