We are now experiencing the shifting rhythms of the season, which officially transitions on Thursday 12/21/17 at 8:28 a.m. (Pacific time). The days are shorter, we're busy with holiday preparations, kids are chomping at the bit to be finished with school for the year, different home recipes are coming into rotation (soup!), then there is a lull after the New Year. It can be a time of quiet and low energy, incubation or hibernation, or a time of industry, to prepare for something big and grand that will emerge in Spring. It can be both, and for many of us it is.
In acupuncture theory, Winter is associated with the Kidney system (which includes the kidney organ and urinary bladder), the element of Water, the color black or blue, the Will, and the emotion of fear. It governs bones, and manifests in the hair on your head.
This article describes three essential oils that have an affinity with Winter. At the end of the article, I suggest some ways to use them, and to provide some trusted essential oil resources. I also describe how to use a terra cotta flower pot to diffuse your oils.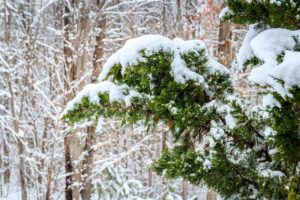 CEDARWOOD: Essential oil of Cedarwood, from Cedrus Atlantica, is a biblical oil, long used for ship-building, temples, and palaces. It's high essential oil content resisted decay and repelled insects and fungus, so it was sought after for its durability. Someone in your family may have an old cedar chest, used to keep quilts and linens safe because of the protective nature of the wood. Cedar's action is fortifying and strengthening, a powerful tonic of the body's Kidney Qi, as well as the Digestive Qi of the Spleen-Pancreas. It is used for general lethargy, lower backache and poor concentration. Cedarwood has a cool nature. It is indicated for lymphatic drainage and other conditions where fluids are being retained and stagnating (edema).
Psychologically it has a fortifying action on the Will, helping us to hold firm even against persistent external forces. It helps steady the conscious mind, and helps us resist sudden events and powerful emotions that threaten our morale and confidence. It can help us withstand "culture shock", when we find ourselves in a foreign country or in an unsettling situation. It can help restore a sense of spiritual certainty.  The woody aroma helps us take a negative or threatening situation and transform it into an experience from which we can gain wisdom and strength.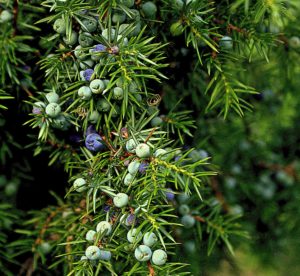 JUNIPER: Another winter-oriented oil is Juniper, also known as North American Red Cedar, Juniperus Virginiana or Juniperus communis). (When you are shopping for oils, be sure to check the botanical name so you buy the oil you intended.) Oil of Cedar is made from the wood, while oil of Juniper is made from the ripe berries. Some Cedarwood oil is also made from Juniper wood. You may also be familiar with Juniper berries if you've created a brine for cooking, or made a cocktail with gin.
Juniper is considered warming and dry… unless of course you are enjoying it in the form of a gin & tonic when, in my experience, it tastes cool and refreshing!
But the true nature of Juniper is warming, invigorating and stimulates the body's Yang energy, particularly Kidney Yang. It can benefit chronic tiredness, cold hands and feet, lower backache and fluid retention. Its piney pungent aroma associates it energetically and psychologically with an ability to disperse and cleanse. Since ancient times it has been associated with spiritual purification and the power to drive out negative influences.
Juniper helps break through psychological stagnation and consolidates willpower. It can help one who seems aloof, but in reality is absorbed in thoughts, worries, pressures and unpleasant memories. This withdrawal may lead to a contraction of Spirit that may manifest in the body as stiff and painful joints (bones are part of the Kidney system, whose season is Winter).   Thus Juniper helps disperse the fear of failure by purging us of worry and self-absorption. It replaces stasis and isolation with movement and openness.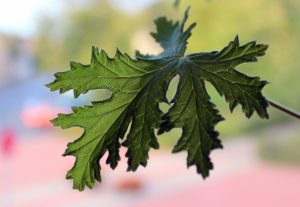 GERANIUM: This oil, distilled from the leaves, is considered neutral or cool, and moist. Geranium clears inflammation, relaxes nerves and calms anxious feelings. It is considered a Qi tonic. It encourages the circulation of Qi and blood, so it can relieve pain and spasms, including joint pain, neuralgia, and varicose veins. Because it's cool and moist, it can be considered for treating chronic anxiety and menopause. When used at a 1% dilution (as in a topical massage formula), it can also benefit dry and inflamed skin conditions; check with your healthcare provider before trying this.
Geranium's cool nature is a boon to someone who is experiencing nervous exhaustion due to stress and overwork. It helps to relax the mind, ease frustration and irritability, and generate a sense of calm. As an astringent tonic of Yin substance, Geranium can help us return to our center with strength. It's a gift to the workaholic perfectionist, by reconnecting them to their imagination, intuition and sensory experience.
HOW TO USE ESSENTIAL OILS: There are many ways to enjoy essential oils. If you receive regular massage, you can ask your therapist if they will agree to work with a custom massage blend of one or two essential oils in an oil or lotion. You can add them to a bath, or make a foot soak (1/2 cup Epsom salts with 10-20 drops of essential oil, depending on your skin and sensitivity). For testing your sensitivity, a foot bath might be a safer place to start than a whole body soak. You can diffuse these oils near your bed, desk or favorite reading/meditation chair. You can also diffuse them in your car while driving (look online for options).
DIY TERRA COTTA DIFFUSER: If you don't want to buy a diffuser, you can use an unglazed terra cotta flower pot or a small terra cotta  saucer. You can use the saucer as is by adding a few drops of oil to the center and letting them diffuse in the air. Put something under the saucer so it won't affect your furniture. If a saucer is too large, then use a small piece of terra cotta instead. Hit a flower pot with a hammer (use safety precautions: protect your eyes and hands) to break off a piece about the size of a half dollar. The edges may be sharp, so sand the edges or buff with a Dremel. Once you have the size you like, add a few drops of oil to the terra cotta and it will diffuse.
It's best to purchase organic oils when possible, since you are using them in contact with your skin and psyche.
Here are some trusted essential oil suppliers: Snow Lotus, Gritman, Tisserand and Original Swiss Aromatics. Check your local Whole Foods or Sprouts (they frequently carry organic essential oils), Pharmaca Integrative Pharmacy, massage supply store or other specialty store.
Winter cheer!